Last week I had some pretty good luck at the op shop!
Firstly, I got this mint condition vintage fabric. It was made into curtains, but I'm sure they have never been used as I have unpicked the panels and there is no fading whatsoever. I'm not quite sure what to do with it yet... A skirt, a little girls dress, or bags most likely.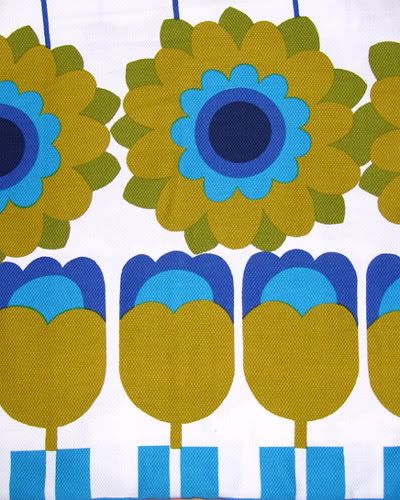 Then, this old Mr Men doona cover. I'm thinking of making some pj's for Rol and Marshall, or Cal and Declan, or all of them. I have to inspect all the images first and see if any will work as appliques on tshirts for day-wear.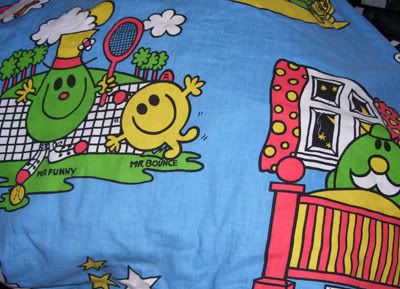 Then, I got some Baby Wool. I got 5 balls of it (plus some yucky nylon stuff) for $4 which seemed good. Then I dyed it with food colouring. Then I spent the following few hours untangling the messy but pretty skein and winding it into equally messy balls. Then I spent the next 3 days crocheting it into a scarf. I used the Solomon's knot stitch and it looks really great. It's got a lovely lacey effect and the thin 3 ply wool works really nicely. I had to touch up a few bits of colour once it was finished cause I wasn't quite happy with my dye job, but I love the outcome! I don't wear scarves often, so I will sell this one, or perhaps give it as a gift if I can think of the right recipient.
I really want to do more of this but it takes sooooo much time and I could never charge what it costs to make and it keeps me away from proper work. I will have to figure out a way to limit myself to a short amount of time each day for the next one.