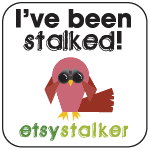 Oh my gosh, oh my gosh, oh my gosh! I just found out that one of my Adorn purses is featured on the fabulous Etsy Stalker website!
Check it out here:
Etsy Stalker
I discovered the Etsy Stalker girls on Twitter a few weeks back and have been stalking
their
site ever since. I'm so thrilled to be featured! What a great way to end what had been a pretty average and very very long day.